Create the most precious interiors with
a precious discovery of
elegance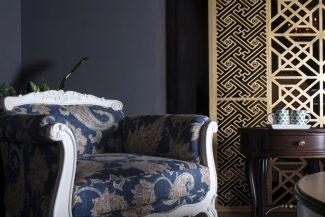 a precious discovery of
elegance
From single wooden masterpieces to completing an entire home with fit-outs, furniture and every last detail. We promise precious living in all forms, shapes and sizes.
The name Ikaira is derived from the meaning of 'kaira' which is, a precious gift of god.​
Ikaira gives power to the karigar. We celebrate the craftsman as a sum of the whole. That's what makes us special.
Walk into our world to be transported to another time, both back to the past and into the future.
OUR FURNITURE IS HANDCRAFTED IN WOOD WITH
EXTREME ATTENTION TO DETAIL AND QUALITY
CUSTOM HAND CRAFTED
FURNITURE
Our artisans can craft the most detailed and meticulous designs that you have in mind. If you don't know what you want, we can offer plenty of inspiration too!
We will turn into your personal home stylists and bring your imagination to life with our expertise.
Every last detail matters to us.
We can build the entire ensemble of your home from the ground up.
CUSTOM CABINETRY & KITCHEN
One of the most decision-involved areas—storage and the kitchen—will be simplified with our service.
is a precious discovery of elegance
We are extremely passionate about the ideas we create and how they help transform our client's homes and lives. Our design teams form our foundation — from the artisans to the graphic designers and everyone in between — it is through handwork and team cooperation that we are able to deliver the furniture of your dreams. We are constantly expanding our family through our clients — become a part of the Ikaira inner circle, and shop from us today! Contact us today.
The Cornerstone Of Any Room
The Ultimate Comfort Zone
If craftsmanship had a voice
If craftsmanship had a voice
If craftsmanship had a voice
Handcrafted by Indian artisans
Bespoke offerings are available
Believers of sustainability and eco-friendly practices
Chat with your personal Ikaira Home stylist
Complete and authentic home interior solutions
Contactless delivery and safe handling
SUBSCRIBE TO OUR NEWSLETTER​
Stay updated with what's happening at Ikaira Homes. Subscribe to our newsletter and become a member of our insider community.